Amazing
Product
-
Worth
much
more
than
it
costs!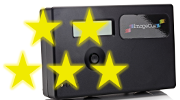 This was the title for the 5-star review from an ImageCue™ user on ProSound and Stage Lighting's web site.Here is the full review.

I purchased this product to replace an out dated (and extremely expensive) video server. I wasn't sure what to expect at first, however the unit exceeded the expectations of myself and my colleagues. We work for a very large international company and are used to buying very high end media systems. However, for the application we were intending to use of those systems we really needed something simple. This was the perfect box. We were able to play back all of our custom content, after processing it through the manufacturers software, as well as program it into our GrandMA lighting console with ease with just a little know-how from our programmers. It was virtually painless and honestly one of the most worry-free pieces of an entire stage show that ran out-doors daily for 3 months. - YES! OUTDOORS!
If you are looking for an easy to use "media server" solution, I would highly recommend this unit. It is going to give you all the basic control you will need for pretty much any show that only requires 1 output.
We contacted the user, "DJ Disco Jonny", in order to find out more about his experiences with ImageCue. As he explains in the review, "Jonny" works for a prestigious international company with a major presence in Southern California. He had attended a local demonstration of ImageCue and persuaded his colleagues to give it a try for their application. Although they were skeptical, they were thrilled with the performance of ImageCue, and the ease in which they got everything up and running. From what we understand, they now have two ImageCues in use for special events.